A Novel Approach for Immediate, Interactive CT Data Visualization and Evaluation using GPU-based Segmentation and Visual Analysis
Information
Proceedings of International Conference on Industrial Computed Tomography (iCT 2019), abstracts 83-84 and on on ntd
Publication Type: Conference Paper with Conference Talk
Year: 2019
Keywords: CT, GPU, Inclusion Detection, Interactive Visualisation, Visual Analysis, Parallel Coordinates, Volume Rendering, GPGPU, Segmentation
Abstract
CT data of industrially produced cast metal parts are often afflicted with artefacts due to complex geometries ill-suited for the scanning process. As a result, simple global threshold-based porosity detection algorithms usually fail to deliver meaningful results. Other adaptive methods can handle image artefacts, but are costly in terms of runtime and computer hardware and often require a-priori knowledge of numerous evaluation parameters. Especially when dealing with high numbers of volume defects, such long preprocessing times make an efficient analysis workflow infeasible, even if the right parameters are found at first try.
Within the scope of our work, a novel approach and workflow for segmentation and visualization of inner volume defects was tested on an stepped cylinder as well as on component parts. Based on a highly efficient GPU-based implementation of a segmentation algorithm used for porosity detection, we propose an interactive workflow for visualizing and analyzing volume defects interactively. Due to the performance (a few seconds for a complete segmentation on the GPU) and the simplicity (only a single threshold parameter that is adjusted to fit the local neighborhood) of the segmentation algorithm, combined with a user interface with multiple linked views, the task of analysing a volume shifts from entering complicated parameters in an expert tool followed by long processing times to an interactive exploration in multiple dimensions and views without prior knowledge.
Result Images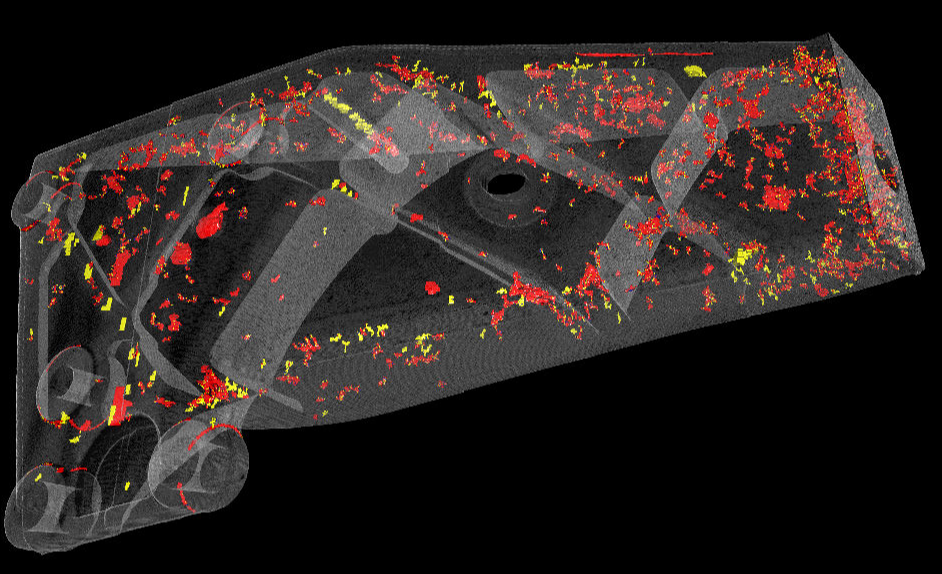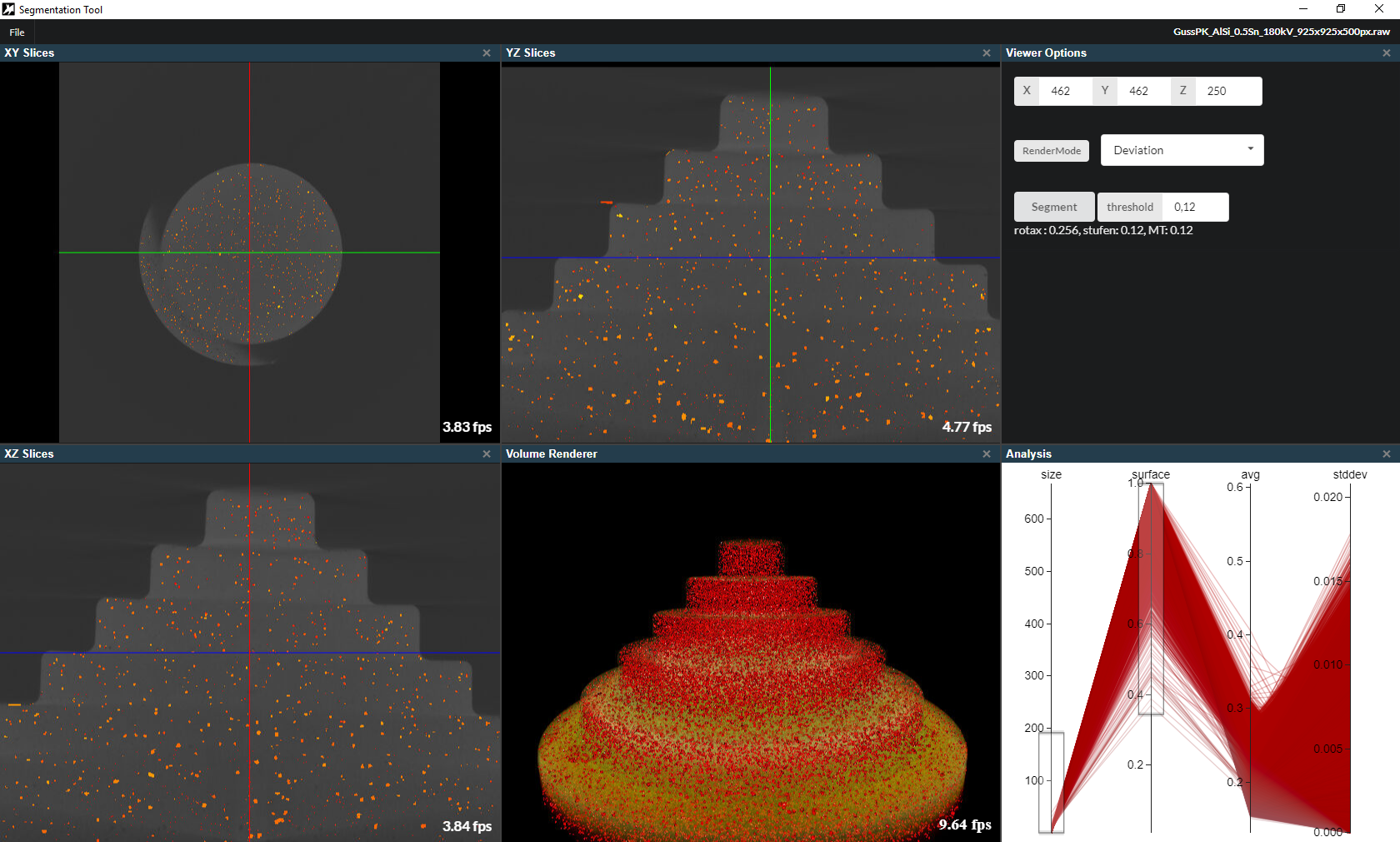 Acknowledgements
The authors gratefully acknowledge the Austrian Research Promotion Agency (FFG) funding the project "CT-Real", project no. 6640797. VRVis is funded by BMVIT, BMDW, Styria, SFG and Vienna Business Agency in the scope of COMET - Competence Centers for Excellent Technologies (854174) which is managed by FFG.
Downloads
Paper (preprint): [2 MB]
This is the author's preprint. The definitive version of the paper will be available at NTD.



Video of the talk @ iCT

| maintained by harald steinlechner | hs -at- vrvis.at | last update: 06.12.2018 |